A Spanish painter who created a world full of light and colour which delights the senses.Joaquin Sorolla appears barely known in this country, and yet was an extremely popular – and successful – painter in his day. Born in Valencia in 1863, he seems to have been influenced early in his career by working in a photographic studio owned by his future father-in-law. However, he quickly became a student of painting, studying first locally but then in Madrid, where he gained a scholarship which allowed him to go to Rome, and then to Paris – the European centre of art at that time.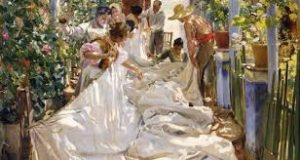 By the early 1890's Sorolla was enjoying international success, selling large numbers of paintings at exhibitions in Madrid and Paris. His popularity stemmed mainly from his treatment of light, particularly from the strong Spanish sun – Monet called him "painter of light" – and Jacqueline's slides illustrated this perfectly.
Besides his pictures of "Social Realism" – fishermen returning with their catch, children bathing in the sea – Sorolla was also a consummate (and popular) portrait painter, whose subjects included King Alfonso of Spain and President Taft of the United States. His major late work was a series of large paintings of different areas of Spain, commissioned by the Hispanic Society of America – 12 to 14 feet high, and a total of 227 feet in length, these proved a major effort, although they still showed how effective was his treatment of Spanish light.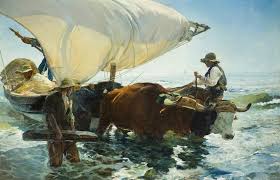 Sorolla suffered a stroke in 1919, and ceased painting. He died in 1923, and his fame and popularity seem to have died with him.